The Cantrells "Weather Reports" released July 2016!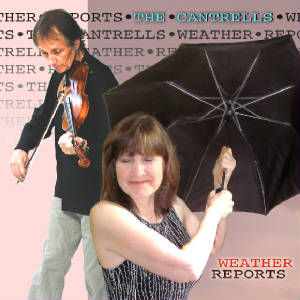 Welcome to The Cantrells' Web Site. Download "Goodbye Cool World", listen to songs, watch videos, order CDs, check the tour schedule, join the mailing list, or contact The Cantrells.

"Goodbye Cool World" FREE Download
"They blew my boots off..."
-"Ranger Doug" Green, Riders in the Sky

"Two first-rate musicians come together like a rainbow--many colored and splendidly joined. What a pleasure! Do yourself a favor and listen up."
-Rosalie Sorrels

"Emily's is a beautiful voice, among the best on the scene. Al succeeds where many other 'super pickers' fail."
-Dirty Linen

"She sings like an angel, he plays like the devil. Al's fiddling is superb."
-Robert K. Oermann, NASHVILLE TENNESSEAN

"Emily Cantrell is one of my favorite singers. She could sing from the phone book and I'd be convinced. Al can fiddle and pick with the best."
-Tim O'Brien

"Best folk duo since Roy Rogers and Dale Evans." -- Bela Fleck
"Who are The Cantrells and what do they do?"
Concert Reviews - The Cantrells
The Cantrells in Wikipedia, "playing the straws, or fiddlesticks"